3 Easy Ways to Help Animal Shelters
30/07/2020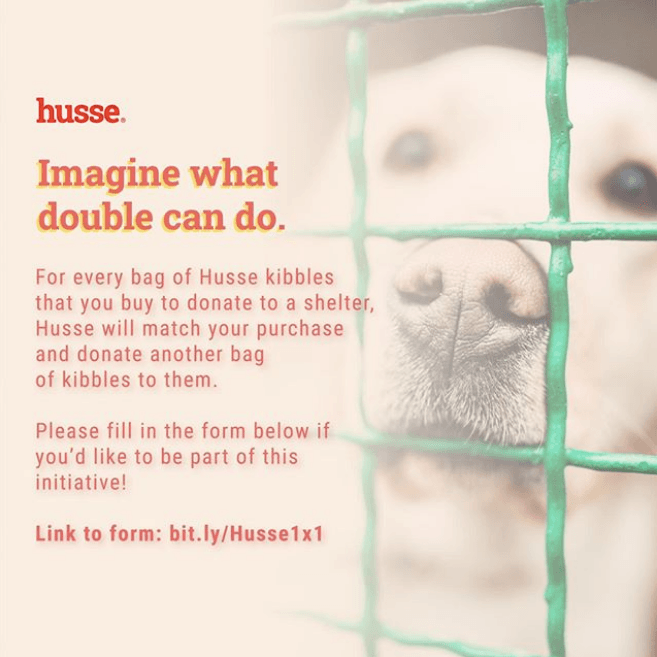 Written by: Jen Ho
Do you have a soft spot for animals? Animal Welfare Groups (AWG) have many on-ground needs that require constant assistance. Find out how you can help out our local AWGs!
I know what you may be thinking – You want to help, but where to start? Or perhaps you're just a resource/cash-strapped student and may be wondering what you have to offer? This is your one-stop article to find out exactly how you can help.

Food/item donations
Have extra food or treats that your pet did not take a liking to and you find it a waste to dispose them? Why not donate them to a local shelter instead! Do check their website first though to see what types of brands of kibbles/food that they accept. Various other household items, electronics or medical supplies might be welcome as well, do check their websites or leave an enquiry so you won't make a wasted trip to the shelter.
For your next purchase of pet food, why not check out Husse's latest program to support AWGs in Singapore. For every bag of kibbles you purchase to donate to the shelter, Husse will match your donation with another bag! Click here to go directly to the form.

Volunteer your time
Are you someone who loves dogs and cats but can't keep them? Or perhaps you already have pets but are unable to have more? Come help out local shelters by being a volunteer!
Not only will you love the company of the animals, they will love your company too. It's a win-win situation!
For AWGs, volunteers come and go (although there are indeed loyal volunteers who have been volunteering for years on end), so they are always in need of fresh blood.
However, it's important to manage your expectations when seeking out volunteering opportunities. As much as shelters welcome volunteers, at times the waitlist to volunteer might be oversubscribed, or the staff at the shelter might be swamped with public queries and other duties, so do understand if they might take a while to get back to you. Also, be prepared to travel to "ulu" (i.e. remote) places, and also to get your hands dirty (depending on the job).
Here's a list of common areas that shelters require volunteers for:
Kennel volunteers (help to walk the dogs, clean the enclosures etc.)

Transport volunteers: If you are willing to lend your car to transport the animals, great! Shelters need you. Animals are constantly being transported to and fro between the shelter to the fosterers or adopters' homes, as well as for adoption drives, or to the vet etc.

Skill-based volunteering: Photography, design (eg. Posters and merchandise), or any other skills which you possess which can help out our local AWGs.

Monetary donations
If you are able and willing to make a monetary donation, shelters are always in need of funds. Food, medicine and vet bills take up a large portion of expenses. Not to mention operating costs, rent, electricity and utilities.
Here are several donation options:
One-time donation

Monthly/recurring donations

Sponsoring a dog/cat/kennel/cattery: Being a sponsor is a form of monthly/recurring donation. Sponsors have special privileges depending on the AWG. Some shelters allow you to choose a specific dog to sponsor, and your name will be placed at the front of the enclosure. Others will allocate you a space on the wall with your name and/or a message and give you an honorary mention on their website. You might even be allowed to visit regularly to interact with the dog that you sponsored (accompanied by a volunteer). Check out the respective AWG website to find out more!

Legacy giving: Leaving a gift (also known as a bequest) to the charity in your will, such as from your CPF or Life Insurance.
Whichever you choose, as long as you can help out in any way, it makes a big difference to our AWGs and the animals they care for :)
« Back